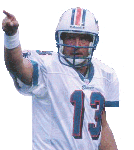 ---
The Dan Marino Collectors Ring (DMCR) is a WebRing about sites that feature cards for trade or sale, and/or tribute pages about Dan Marino. This isn't limited to card collectors though, anyone who has a Miami Dolphin/Marino page can be in the ring. That's all the requirements, and all I ask is that the ring code is placed either on the main or links page of your site.
Thanks for all the support!
---
Buoniconti Elected To Hall Of Fame
Nick Buoniconti becomes the eighth former Dolphin to be elected into the Pro Football Hall of Fame, and the first defensive player. He will join Head Coach Don Shula (1970-95, inducted in 1997), fullback Larry Csonka(1968-74, 1979, inducted in 1987), quarterback Bob Griese (1967-80, inducted in 1990), center Jim Langer (1970-79, inducted in 1987), guardLarry Little (1969-80, inducted in 1993), center Dwight Stephenson(1980-87, inducted in 1998) and wide receiver Paul Warfield (1970-74,inducted in 1983). The 5'11", 220-lb. middle linebacker anchored Miami's "No-Name" defense, leading the Dolphins to two straight Super Bowl victories. Enshrined on the Dolphins Honor Roll on November 18, 1991, Buoniconti set the standard by which Dolphins linebackers are compared. Originally selected by the Boston Patriots in the 13th round of the 1962 AFL Draft. After playing seven seasons for the Patriots, where he played in six AFL All-Star games and tallied 24 career interceptions, he was traded to the Dolphins in 1969. He was then named the team's Most Valuable Player in his first season in Miami. A two-time Pro Bowl selection (1972-73), Buoniconti was named the Dolphins' outstanding linebacker for five straight seasons (1970-75). Buoniconti performed outstandingly under the spotlight, picking off a Terry Bradshaw pass in the 1972 AFC Championship game, and his interception in Super Bowl VII led to the Dolphins' decisive second touchdown in the 14-7 win. He was voted as a linebacker on the Dolphins' Silver Anniversary all-time team, was named to the all-time AFC Super Bowl team and was inducted into the Florida Sports Hall of Fame. Earned his law degree from Suffolk University in 1968. Since the end of his football career Buoniconti has been just as visible, founding The Miami Project to Cure Paralysis, which has initiated groundbreaking research on spinal cord injuries.
Congratulations to Nick!
---
Marino to QB again


Okay, so it's not the NFL, but Dan will be taking snaps on January 27th as part of MTV's Rock N Jock Superbowl, where he and other NFL greats like Warren Sapp and Donovan McNabb will be competing against celebrities in a flag football game.
It will be good to see Dan throwing the ball again.

Here's the info from MTV.com:
Join MTV for our Spectacular Super Bowl Antics!
SUPER BOWL SWEEPSTAKES
Win a chance to fly out to Super Bowl, and be up close and personal with Aerosmith.
Get to see behind the scenes Aerosmith rehearsals before the game
Go to MTV's hip Super Bowl party
Be a part of the halftime show ROCK N JOCK SUPER BOWL
Tune in on January 27th at 2 p.m. ET on MTV

Watch as NFL stars Dan Marino, Donovan McNabb, Tony Gonzalez and Warren Sapp go up against celebs such as:
Gena Lee Nolin (Baywatch)
Shannon Elizabeth (American Pie)
Eve
Ja Rule
Jerry O'Connell (Sliders)
Erik Palladino and
Colleen Haskell
Members of 98 Degrees to compete for the coveted MTV Rock 'N Jock Football trophy .
CBS Halftime includes commentary by Mike Ditka and Jim Nance of CBS and a performance by Shaggy.
Check out "player cards" for pics and vital stats
SUPERBOWL HALFTIME SHOW
MTV Halftime Goodies
See video highlights from all 34 super bowls
DFX SUPER BOWL SPECIAL
Super Bowl DFX:

Vote for who you think is gonna win the Super Bowl
Flip book of Super Bowl players. Check out their favorite DFX bands, songs and what music they like to listen to when getting pumped up to play a game.
MTV's SUPER BOWL UNCENSORED
Web Exclusive clips of footage that didn't make it on the air

Jamal Anderson
Randy Cross
Dick Vermiel
Check it all out at MTV.com!
The address is www.MTV.com.



---
#13 is Retired in Miami


In a wonderful half-time ceremony of the game against the visiting Balitmore Ravens, the Miami Dolphins retired the jersey of it's greatest player, assuring that no one will ever wear the number 13 again.
Dan Marino was obviously moved as his jersey was retired, his named put into the Ring of Honor at Pro Player Stadium and a statue erected at the entrance of the stadium, forever a reminder of 17 years of greatness.
He will be missed.
Anyone interested in a VHS tape of the half-time show or other Marino moments, please send me an email, and let me know what you are looking for, and I'll see what I can do.
In other site updates news, I will be tinkering with a new look for the site pretty soon, as well as a new domain name. Keep checking back for details. Thanks for all the continued support.






LE FastCounter
Copyright &copy 1998-99 The Dan Marino Collector's Ring